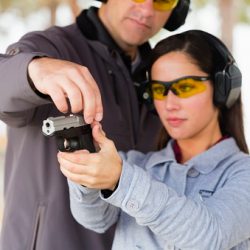 About Course
What Will You Learn?
This course of instruction is a private, one-on-one (or two (2) to one (1)) training lesson designed to improve a shooter's accuracy, proficiency and knowledge of firearms safety.

This class is hosted by Premier Executive Transportation Inc and is designed to build upon fundamental principles of firearm handling and safety. Participants will also be exposed to a variety of firearms functions and features.

This lesson can be mobile where we come to you, or at a Gun Range in Orange Park, Florida. You will have the opportunity to hold, operate and even purchase a variety of handguns, and rifles.

OF NOTE: There is no certificate of completion offered for this private lesson, and this lesson DOES NOT meet licensure requirements to obtain a state of Florida Concealed Weapons Carry License.

This class is NOT affiliated with any third party training organization, and is independently taught by National Rifle Association (NRA) certified Firearms Instructors.
Student Ratings & Reviews
No Review Yet